09/01/2020 / By Mike Adams
---
With millions of new gun owners in America since the left-wing terror mobs began attacking innocent people and burning America's cities, lots of people are trying to find a comfortable way to carry a firearm 24/7. Most of the cheaper, low-end kydex holsters are very uncomfortable and poorly made, and leather holsters lack the retention "click" confirmation that kydex holsters offer. So what's the solution?
In today's PrepWithMike.com video, I reveal a brand of holster that combines a rugged, flexible material on the body side of the holster with a kydex half shell that's formed to your gun for the outside of the holster.
The result is an extremely comfortable, wearable, breathable holster that makes carrying a firearm very easy to achieve, without all the pressure points and discomfort that other holsters might cause.
The company that makes this holster is not a sponsor, and I have no affiliate relationship with them. I bought a holster from them about six weeks ago and have been wearing this holster for around a month, and I was surprised to discover how comfortable it was.
Watch this video — and see links to other videos and how-to podcasts — at PrepWithMike.com. We're now posting videos and podcasts daily, all with practical, real-world how-to solutions that can help you survive the chaos that has already arrived.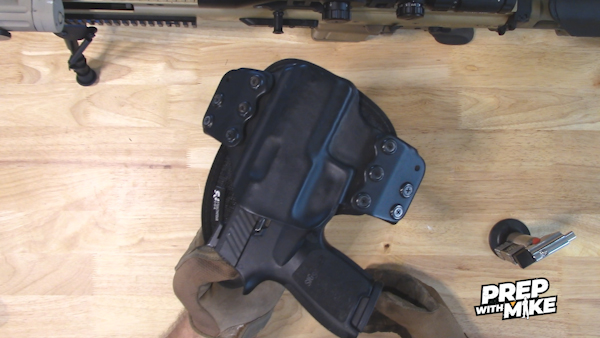 The next video to be posted shows you how to clean and lubricate your firearm with coconut oil. Yes, coconut oil. It's both a superfood and a firearms cleaning agent!
See it at PrepWithMike.com in the next couple of days.